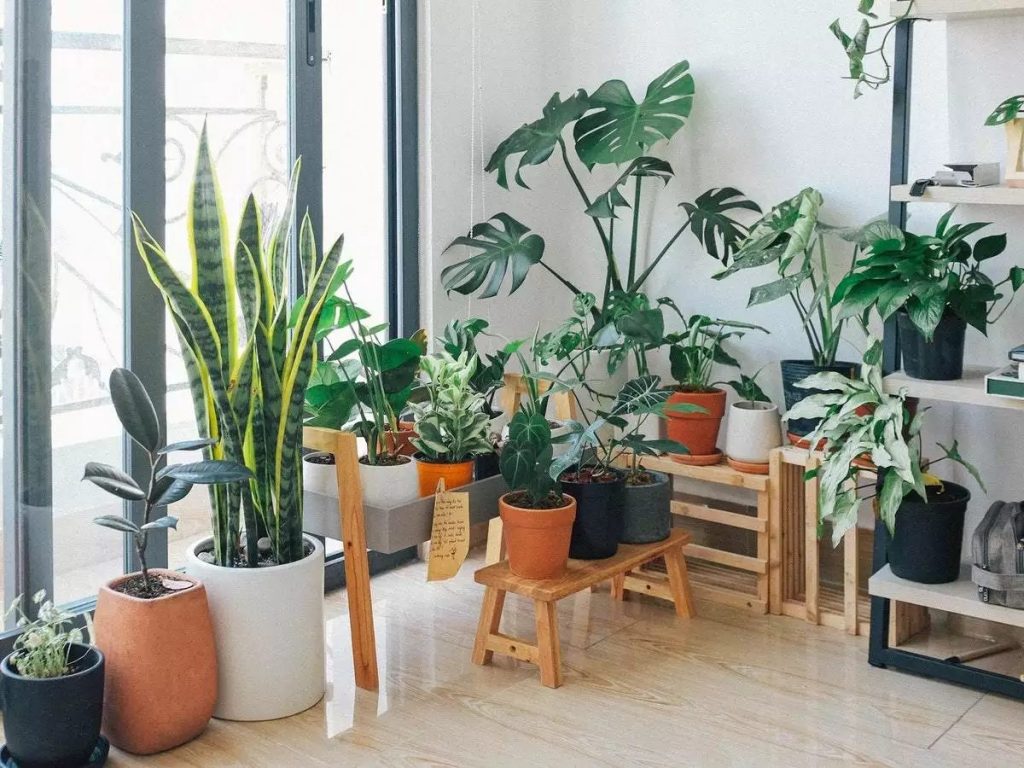 As fall rounds the corner yet again, it's time for us to strip off our gardening gloves, hunker down indoors, and prep for the cold. For plant lovers, transitioning into colder months can be a tough adjustment. But, although gardening might seem like a seasonal activity, the winter chill doesn't mean you have to pack your trowel away in storage for the next few months. Believe it or not, plenty of plants can flourish indoors, giving you the perfect way to spend the upcoming winter.
To give you some insight into livening up your space with some lovable indoor blooms, we'll dive deep into five of the best plants to grow indoors, including how to best care for them to keep them happy and healthy all season long.
Herbs
Looking to add some flavor to your meals? Growing herbs can be super rewarding, not to mention convenient when adding some spice to the kitchen. And, if you have a southwest-facing window with a substantial amount of bright light, the options are nearly endless.
Most herbs are self-sufficient when planted in the ground outdoors. But when you bring them inside, they require a bit of extra care. Some of the best windowsill herbs include basil, parsley, mint, chives, rosemary, thyme, and sage. They vary in moisture preferences, but a well-draining soil mix and a container with drainage are sure to do the trick.
Orchids
Orchids are arguable some of the most beautiful plants, and they often thrive indoors. Although many find orchids fussy and temperate, they're surprisingly simple to care for once you get the hang of it. And they bloom for months at a time.
Place your orchids out of direct sunlight, but where they'll still receive enough to bloom—east-and south-facing windows typically make good homes. They require less water and more fertilizer, so be careful of overwatering. Humidity is also beneficial in caring for orchids.
African Violets
African violets are stunning, providing plenty of bright colors to liven up any space. Not to mention, their leafy greens are always worth a second look. If you're looking for a low-maintenance flower that will offer just the right amount of charm to your home, African violets could be the answer.
African violets flourish in bright, indirect light, where they'll bloom for months at a time. East- or west-facing windowsills often make an ideal home. They're a bit picky about water, so ensure that the soil is kept moist but never soaked and avoid getting water on the leaves.
Fiddle-Leaf Figs
As one of the most popular trees on the market, fiddle-leaf figs make for a perfect focal point in any room. Fiddles can be planted indoors at any time of the year and are often hardy enough to withstand environments that are out of their comfort zones. They're also fairly low maintenance with the proper growing conditions.
Fiddle-leaf figs do best in bright, filtered light and can burn in direct sunlight. Keep your fiddle out of drafty conditions and in a climate between 60 and 85 degrees. They appreciate humidity, so positioning them in the area of a humidifier, or misting them daily, can help them look their best.
Peace Lilies
For a plant that'll survive in shade or partial shade, peace lilies can be a perfect choice. Not only are they beautiful plants that provide a simple and elegant charm to a space, but they're also easy to keep alive and well.
Peace lilies like light, but they can also do well with low-lit areas. They even flourish under fluorescent lighting, which makes them the ideal office plant. Peace lilies will let you know when they need water as their leaves droop, but keeping their soil consistently moist (not soggy) will keep them happy and healthy.
Sprucing Up the Indoors with Karen's Flower Shop
From lush greens to delicate flowers, plants are one of the best ways to spruce up your home. Whether you enjoy cozying up with a book or heading out to explore the world, houseplants can be the ideal way to transform any space feel into one you'll never want to leave, regardless of the season. And there's no shortage when it comes time for adding some greenery inside.
When it comes to floral delivery in Milton, Karen's Flower Shop has adequate delivery vehicles ready to cover the Greater Toronto Area and provide gorgeous blooms with just a few clicks. At Karen's Flower Shop, we have a multitude of options for both indoor and outdoor plants and flowers. From wedding arrangements to birthday bouquets, Karen's Flower Shop is your go-to shop for Milton flower delivery. Contact us today, and we'll transform your floral dreams into a reality.